Happy New Year!
For me, as it does for many, the new year starts with some time for reflection.  I reflect on lots of things, but a big one is my career.  How is my business doing? Am I enjoying myself? Do I believe in what I am doing? Do other people find meaning and importance in my work?
Thankfully, the answers to these questions are well, yes, yes, and yes (at least they tell me they do!).
Sometimes, however, being in my profession brings to the surface issues and trends that I really grapple with (warning: I am going to get on my soapbox here!).  The past little while, I've been doing a lot of thinking about closets.  I've been reflecting on how much of our homes we dedicated to storing stuff, how often we access or use that stuff, and how efficiency of storage impacts the overall function of the home.
Let me tell you how it all started:
I wrapped up last year by beginning a bathroom renovation in my own home.  Though my home was a complete disaster through the holidays, I figured that would allow me to start 2017 with the end of renovation to my home in sight and with the prospect of a functional bathtub!   It's a pretty major overhaul because I will be going from one and a half baths to two full baths.  I put my space-planning skills to work, taking the one full bath and three closets to make two full baths, one of which is en-suite to the master, and then turning the half bath into a modest walk-in closet in the master bedroom.
Now, I realize a lot of people think I am crazy to eliminate closets in a small ranch house that is already limited on closet space.  But, I am gaining much needed function in having two bathrooms, which will include more cabinetry- which means more useful storage.  Yes, my closet square footage has gone down, but that doesn't necessarily mean my storage space has diminished.
I must confess that I am currently using the third bedroom in my home as a "dressing room" because my existing closets weren't very functional.  It was hard access the top shelf and the bypass doors took up an entire wall so there was nowhere for me to put a dresser in my bedroom.  So I took over the third bedroom.  While it's pretty fabulous with my over-sized mirror and the original chandelier from the dining room, something about it bothers me.  I feel like it's a waste of space because I have storage along the perimeter of the room and a small table in the middle so I don't hit my head on the chandelier (which I did several times prior to the table being there).  I spend maybe 15 minutes in there per day to change my clothes, but other than that, the room is just a glorified closet, a shrine to my clothing and shoes.  I feel a little ridiculous.  I have closet guilt.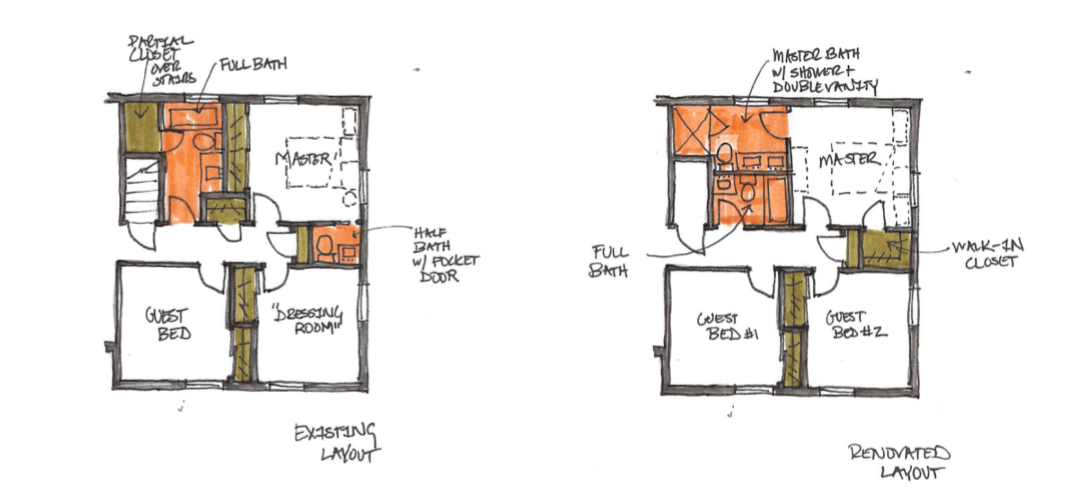 I am not alone, however, in my square footage dedicated to clothing storage.  In fact, in much of the residential construction I see, walk-in closets are standard in almost every bedroom.  Master closets are almost as large as the master bedroom itself.  I dare to say that clothing, shoes, jewelry, and accessories are merchandized rather than stored in these closets.  In the latest issue of Veranda Magazine, Calais McGuinness of California Closets says, "Closets are becoming the new kitchen."   I agree with her statement, but I have to say this development concerns me.  Many of these closets are so large that they have islands just like a lot of kitchens; it probably won't be long until they have barstools, a sink, and a mini-fridge.
Don't get me wrong, I love a closet outfitted with a closet system to make it as efficient and orderly as possible, but when such a sizable chunk of square-footage is used for what I would not consider "living space", I think it's time to re-evaluate.  Maybe people hang out in their closets more than I think?  I guess I'd rather have a bigger kitchen than a bigger closet.  How about you?
This monstrous closet epidemic really struck a chord with me as I was thinking through my bathroom and closet renovation.  Space-planning is a huge part of what I do and one of my favorite parts of what I do.  Planning out my own space has really forced me to re-evaluate the function and efficiency of closets.  Bigger isn't always better.
Once my renovation is complete, I am planning to eliminate the "dressing room" closet, fitting my clothing and shoes in my new walk-in closet and a chest of drawers on the once unusable wall in my bedroom.   This will also be a great opportunity for me to assess my wardrobe, hopefully resulting in several bags of items to donate and serving as a reminder that I have plenty to wear.   I will eliminate 120 square feet of inefficient storage and gain a lovely bedroom.  I feel better already just thinking about it.
As you start 2017, I encourage you to think about how much of your home is dedicated to closets and storage.  Is it well-used space? If you improved the efficiency of the storage, could you gain back square footage for a more usable space?