Let's be honest.  When's the last time you used your formal living room?  And maybe even your formal dining room?
When I ask clients this question, the answer is usually either "Last Christmas. We only use it once or twice a year, if that." or "I can't remember.".
The way we entertain has become less formal, so these "formal" spaces often go unused in favor of the more casual great room and the kitchen.  As a result, great rooms and kitchens are becoming larger and more connected.
When meeting with a client to discuss a renovation project, one of the first things I do is help them to determine the unused or underutilized spaces in their home so we can capture it back to give them greater and better function in the new design.
Here are a few examples of projects where we did just that, to varying degrees: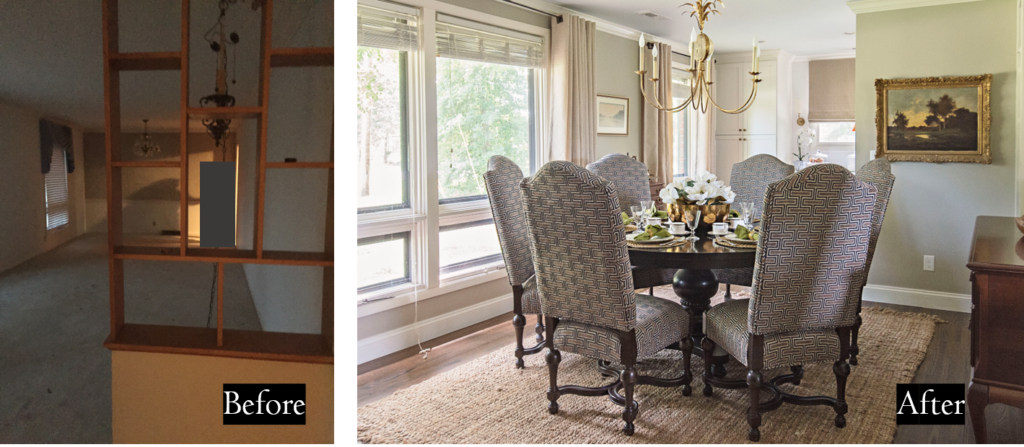 With limited space in this ranch, it was important to make every bit count.  Through a renovation, we transformed what was the formal living room into a more "everyday" dining room, somewhere between formal and casual.  We took what was the original dining room (far end of the before photo) and captured that space to create a more open, galley-style kitchen, double the size of the original tiny, closed-off kitchen.
(check out more of this project here: https://emilydyerdesign.com/portfolio-items/craigmeade/)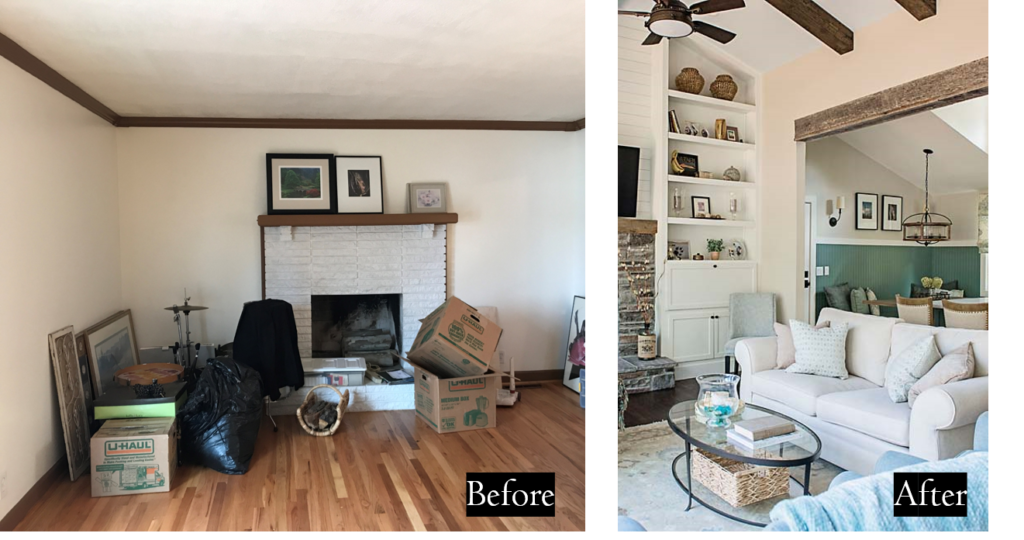 In this renovation project, what was the formal living room and formal dining room became the great room.  We also redesigned the kitchen to include both counter seating and a breakfast banquette to accommodate various dining needs.  Though the island and breakfast table also often double as great work-from-home setups, our clients needed a place to put the mail, store their ipads, and to sit and pay bills.  Not wanting to take up too much valuable space, we incorporated drop down desks into the built-ins on either side of the fireplace in the great room.  This way, the "desk" is there when they need it, but doesn't take up any room when they don't.
(stay tuned for this project reveal on our website soon!)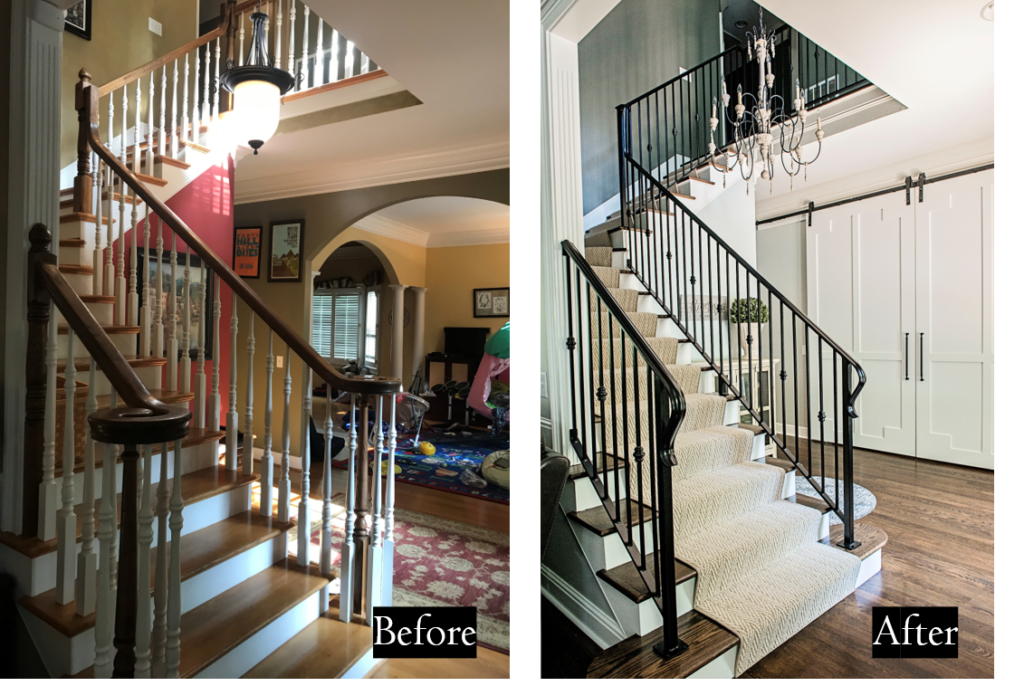 As you walked through the front door of our clients' home, there were two spaces originally intended as a formal living room and a formal dining room.  The formal living room had already been overtaken by the kids' toys, but the formal dining room was still treated as the dining room, though seldom used for dining and more often used as a place to lay out paperwork.  We overhauled their great room, kitchen, and breakfast room to give them a big island with more casual seating and a breakfast nook with seating for 8, so they really no longer needed the formal dining room.  They did, however, still need a playroom, though they preferred it not be featured by the front door.  They also needed another home office.  We moved the kids' toys into the former formal dining room and put in a wall with pocket doors where the columns used to be so the space could be closed off and out of sight completely if needed.  We converted what was originally the formal living room, and then the playroom, into a home office.  Though the office was complete with a chandelier for our fabulous client, she wanted to be able to close it off from the front door, too.  We took that opportunity to design custom "barn" doors, which give her privacy when she needs it but also add an attractive focal point when you walk through the front door.
(stay tuned for this project reveal on our website soon!)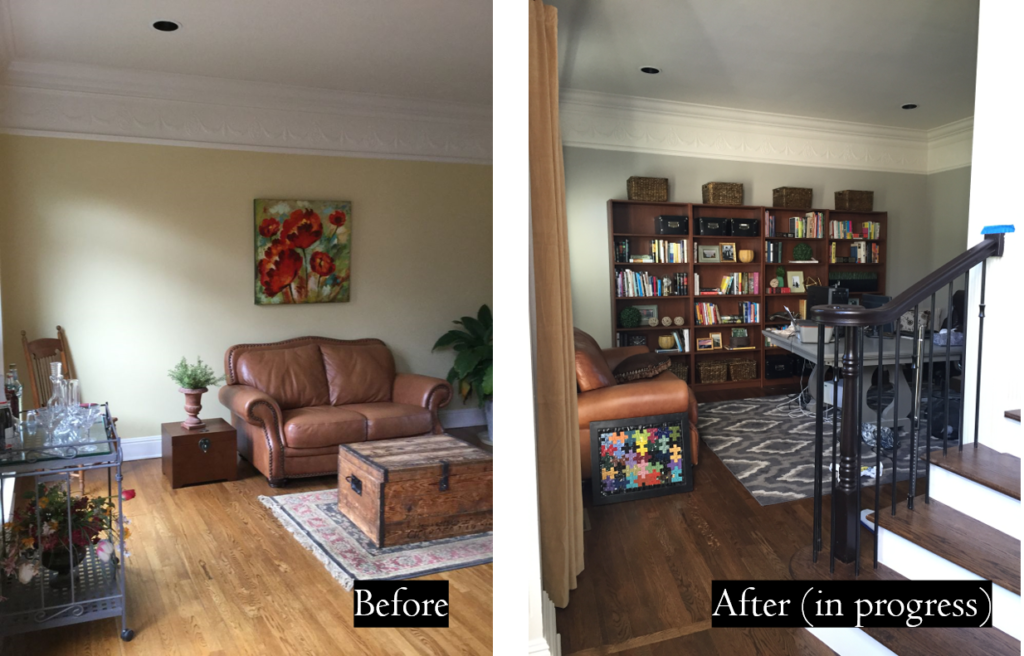 Previously, this space was intended as a formal living room.  For our clients, who do not entertain formally, it was seldom used and had become a "catch-all" room for assorted furniture. We helped our clients to identify that they really needed a quiet landing space where several family members could work simultaneously or read a book.  We repurposed a few pieces of furniture, added plenty of shelf space for books and supply storage, and floated a table in the middle of the room as a workspace that could comfortably accommodate two people.
(check out more of this project here: https://emilydyerdesign.com/portfolio-items/nialta/)
During this global pandemic, now more than ever, we are putting our homes to the test.  Many of us have multiple people working from home and homeschooling in the household.  We're realizing how important it is to use every inch of our homes wisely and to have multi-purpose, flexible spaces.
As you're on your next conference call, roaming around the house, I encourage you to look for unused or underutilized space in your home as an opportunity.  Maybe giving that space a new purpose involves a renovation or some cosmetic changes.  Or, it could just be rearranging the furniture for a smarter layout.
It may be time to give that space a new purpose and to give it new meaning.
We hope you all are staying safe and well!