Hello and Happy Holidays! We hope you're enjoying the season and find some inspiration for the New Year in this month's blog post. 🙂
Gratitude:
To our clients, vendors, and colleagues, thank you for making our work meaningful and enjoyable.  We couldn't do what we do without you.  Thank you for helping us make 2016 a successful year at Emily Dyer Design!  You rock!
What's Happening in Design:
Over Thanksgiving week, Emily had the opportunity to visit Thomas Jefferson's historic Monticello in Virginia.  She was so struck by how much she could relate to the way the house was designed.  Jefferson designed and built his home over 200 years ago but so many characteristics that he implemented in his design are still important and relevant today.  Architecture and Interior Design are not just about what trends, but what transcends.
This home is all about natural light, views, and cozy spaces (and so are we!).  One of the most striking features of Monticello is how much natural light floods into every space. There are windows on nearly every exterior wall and on multiple walls within a room, making the beautiful grounds feel like an extension of the room.  And let's take a moment to talk about the property.  Jefferson had thousands of acres and selected one of the tallest hills for his home.  The hill, however, was not flat at the top – so he had the top of it cut off!  The result is the Monticello sits on a lovely flat piece of land, overlooking the rest of the property with breath-taking views for miles from both inside and outside the house.  The best view was from the library, Emily's favorite room.  It was a cozy room, surrounded by bookshelves filled with thousands of books, the perfect place to curl up in on a chilly Fall day and look out over the large garden terrace and rolling hills.
Though modern technology has drastically changed the way we live, the same fundamentals of design apply today as did hundreds of years ago.  We highly recommend a visit to Monticello!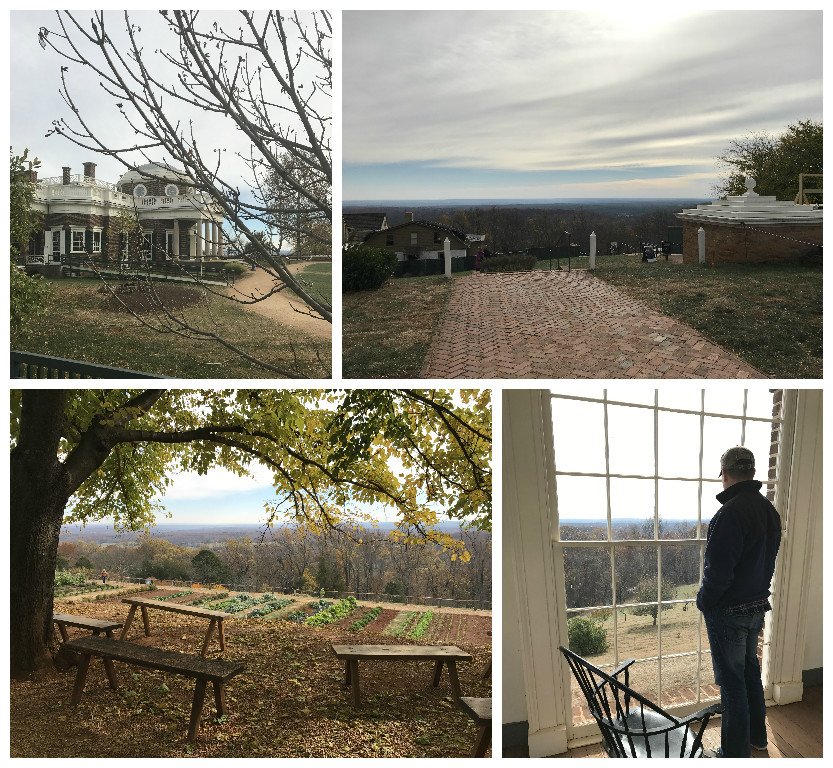 Featured Project:
In November we wrapped Phase 1 of the Riverview Remodel (#riverviewremodel). In this phase, our clients wanted to update their in-law suite bathroom aesthetically, but also make it safe and accessible for guests of all ages.
Some of the features we included in the update were grab bars, a seat in the shower, and an adjustable handheld shower on a bar. This is a great feature so you can use the handheld shower while on the shower seat, but also allows you to set the handheld showerhead to a comfortable height for someone shorter.  A great feature for aging-in-place (as a child or as an eldery person!)
Before the update, when walking into the bathroom, immediately in front of you was a wall that was part of the shower, making both the room and the shower closed-off and dark. To open up and lighten up the space, we took out the shower wall and went back with glass instead, which allowed us not only more light but also to create a design feature and focal point with tile that is in the line of sight when entering the bathroom from the bedroom.
For this project, we used timeless materials, but we didn't want the bathroom to be boring! For the more permanent elements in the space, we made classic and neutral selections with limestone and slate with a creamy counter top and cabinets.  We injected color and fun into aspects of the bathroom that are easier to change by painting the walls a warm, complex orange and incorporating an ornate, statement mirror.  These elements give the room character, contrast, and tie in with the shower floor.
One of our challenges in this bathroom was to design an attractive way to disguise the water heater while making it accessible for maintenance.  We designed a built-in for the water heater that coordinates with the vanity for a more cohesive and integrated look in the space.
We're so pleased with how Phase 1 turned out we can't wait to get started on Phase 2 of the Riverview Remodel in January 2017. Stay tuned!